The conclusion of Part I introduced Elizabeth Foster into the fold of Georgiana's already turbulent life. 'Bess' Foster quickly became Georgiana's best friend, making her way into the Duchess' heart. She also quickly became close to the Duke, making her way into his bed. Georgiana, desperate for companionship, failed to see Bess for what she was – a woman who's initial goal was to drive the Duchess from her home and to keep the Duke for herself.
Historian Amanda Foreman, Georgiana's biographer and author of 'Georgiana, Duchess of Devonshire,' has referred to Bess as the "quintessential snake in the grass." Several historians have speculated about the nature of Georgiana's relationship with Bess – whether it was sexual in nature or not. We will likely never know, but it is evident in letters that Georgiana loved Bess dearly regardless of their unique 'ménage-a-trois' living arrangement. If Georgiana were jealous of the relationship between Bess and the Duke, her letters never addressed it.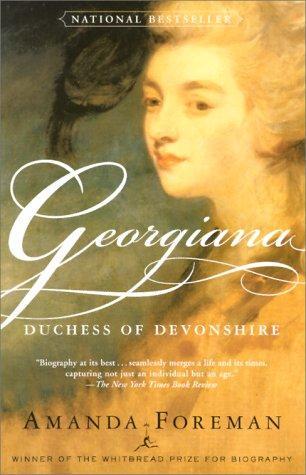 Amanda Foreman's book is a must-read for any fan of Georgiana.
Source: goodreads.com
A Child Arrives At Last
On July 12, 1783, the Duchess of Devonshire finally gave birth to her first child – a baby girl named Georgiana. Despite her strong maternal instincts and love for the child, Georgiana drowned her disappointment in not producing an heir in drink, drugs and gambling. Indeed, Georgiana's voracious appetite for gambling quickly escalated to the point where she owed hundreds of thousands of pounds to her creditors. The Duchess was in such debt that even SHE was unaware of how much she owed, and at one point had written a letter to the Prince of Wales himself asking for money. Despite both Cavendish and Spencer wealth, Georgiana lived in constant fear of the Duke discovering the extent of her debts, and she kept as many of them a secret as she could.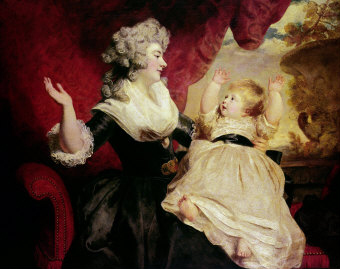 Georgiana with her daughter, Lady Georgiana Cavendish.
Source: backtoclassics.com
Georgiana's difficulty in conceiving a long-awaited son and heir was finally relieved with the birth of a baby boy, William, Marquess of Hartington, and future 6th Duke of Devonshire, on May 21, 1790. The birth of a healthy son and heir left Georgiana free to embark on an extra marital affair of her own. Many aristocratic women of the day participated in affairs, however the Duke of Devonshire refused to turn a blind eye to Georgiana's love affair with future British Prime Minister Charles Grey. Georgiana found herself pregnant with Grey's child in 1791, and was banished to France by the Duke in order to hide the pregnancy. In early 1792, at the age of 34, Georgiana found herself alone in France, heavily pregnant and absolutely hysterical. Convinced she was dying, and assuming she would never see any of her children again, she wrote her son William, then age two, an entire letter penned in her own blood.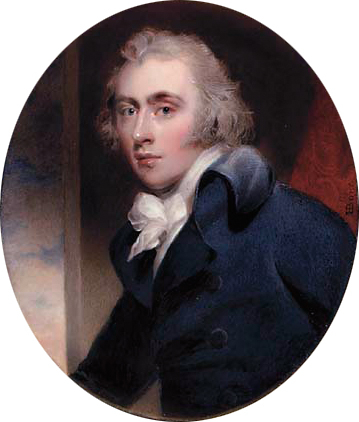 Charles Grey, 2nd Earl Grey and future Prime Minister, with whom Georgiana had an affair and child.
Source: en.wikipedia.org
A Little Scandal
In mid-February of 1792, Georgiana successfully gave birth to a daughter, Eliza, her fourth and final child. Two years later, the Duke finally gave Georgiana permission to return to England. Baby Eliza, however, was sent to be raised by Grey's parents and was kept unaware of her biological mother's identity. Georgiana adored the little girl and essentially functioned as a godmother of sorts to her throughout her life. Sadly, Eliza was not told of her biological mother's identity until Georgiana's death.
Georgiana returned to England in the fall of 1793, and lived her life surrounded by the Duke, her children and Bess for another 14 years. The Duchess of Devonshire died on March 30th, 1806, from an abscess on her liver. Her mother, Lady Margaret Spencer, her eldest daughter Georgiana, the Duke and Bess were all at her bedside, and all were said to be inconsolable, particularly the Duke as their relationship had steadily improved in the years after her return to England. Thousands of people – aristocrats, politicians and commoners – streamed past Devonshire House in London to pay their respects to Georgiana. Three years after Georgiana's death, the Duke married Bess Foster, who became the next Duchess of Devonshire. Coincidentally, Bess herself died 18 years to the day that Georgiana died, March 30, 1824, with a locket around her neck that held a lock of Georgiana's hair. It seems truly fitting that Georgiana, the Duke and Bess are all interred together in Derby Cathedral.
A Woman To Be Remembered and Revered
Georgiana's private life is the stuff of which tabloid dreams are made – addictions, personal tragedies, self-destructive behaviours and love affairs. Today's media would have had a field day exploiting Georgiana and her personal struggles. It is truly sad that her foray into the political world – dominated at the time by men – was overshadowed by her turbulent private life. An intelligent and sensitive young woman, she lived her life for the things she was passionate about; politics, her children and her best friend. Despite the addictions, anxieties and personal tragedies which befell her, Georgiana's determination to create her own identity in the midst of scandal make her a woman worthy of our respect, helping to pave the way for women in British politics.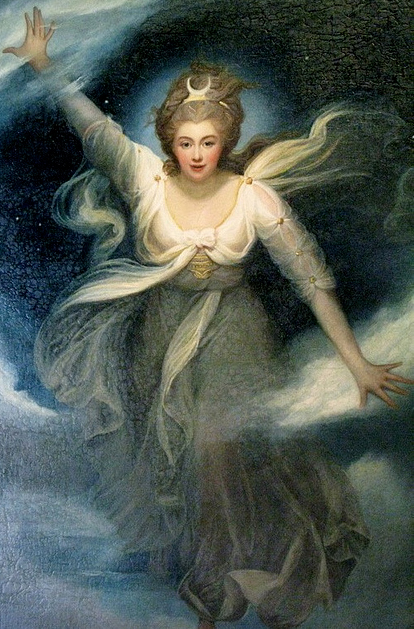 Georgiana. A great woman to be remembered.
Source: alering.com