Much has been written over the years about King Charles the 1st who lost his head and his son Charlie the 2nd aka 'The Party King,' what is not so widely known however, is that the Merry Monarch had a sister who he lovingly referred to as 'Minette' and her story is, (in my humble opinion) as interesting as those of her father and brother.
On the 16th of June 1644, Henrietta Maria (the wife of Charles the 1st) was on the run. Her sanctuary was Bedford House in Exeter and as a civil war raged outside, the determined queen, gave birth to a baby girl, named Henrietta-Anne. For her own safety. The baby was handed to her governess Lady Dalkeith, whilst her mother escaped to France.
A posthumous painting byPeter Lely of Princess Henrietta commissioned by her brother King Charles II and presented by him to Exeter Guildhall, in the Council Chamber of which it still hangs today, in recognition of her birth inBedford House, Exeter, the town house of the Earl of Bedford who had given her mother refuge during the dangerous years before her father's execution in 1649 [Source: Wikipedia]
At the age of three the young Henrietta (nicknamed Minette,) and her governess, Lady Dalkeith, fled England to be reunited with the mother she missed so much, in France. In order to evade detection, the enterprising Lady Dalkeith dressed herself and Minette to resemble a peasant woman and her daughter. The daring escape was successful and Minette arrived at the court of her first cousin, Louis XIV of France.
Minette was a welcome addition to court and many thought that she would marry her cousin Louis, but instead, his mother requested that she marry Louis' brother, Philippe. Philippe was named 'Monsieur' by the household and unfortunately for Minette, Monsieur was more interested in men than her.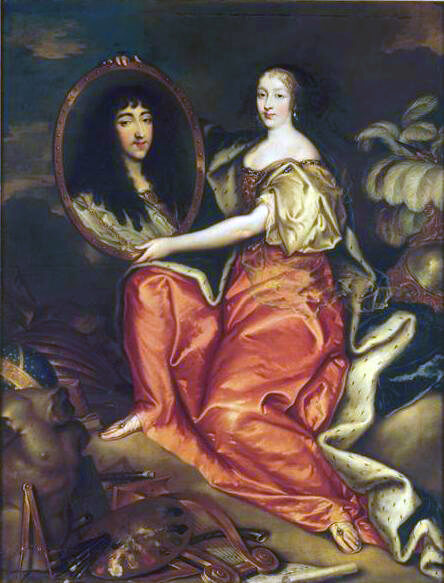 Henrietta as Minerva holding a painting of Monsieur, by Antoine Mathieu [Source: Wikipedia]
Following their marriage, the couple moved into the Palais de Tuileries and Minette became known as 'Madame.' A year into the marriage, Minette gave birth to a baby girl named Marie-Louise and the rumour mill went into overdrive, with most people believing that the baby was fathered by Louis XIV himself or the Count of Guiche, who incidentally had been rumoured to be an ex lover of her husband Philippe.
Philippe was incensed with jealousy and sought solace in his mother, pouring out his woes to her, about his errant wife. Minette's brother Charles regained the crown of England for the Stuart line and was a great source of love and support for Minette. She was lively, enjoyed being surrounded by people and loved music and feasting. She adored the French people and was thrilled to be living with her mother, after being deprived of her parents for so long. She tried desperately to make a happy life for herself, despite being married to a man who publicly treated her with disdain.
There was to follow, a particularly miserable time in Minette's life. In between losing her two year old son and a stillborn daughter, Philippe's most prominent lover, the Chevalier de Lorraine, joined the household of Monsieur and Madame and openly vied for power with Minette and took every opportunity to belittle her in her own home.
In 1669, Minette gave birth to a healthy baby girl named Anne Marie, but she lost her beloved mother in the same year. As soon as her mother's death was announced, the dastardly Philippe rushed to claim all her possessions (even before she was even buried.)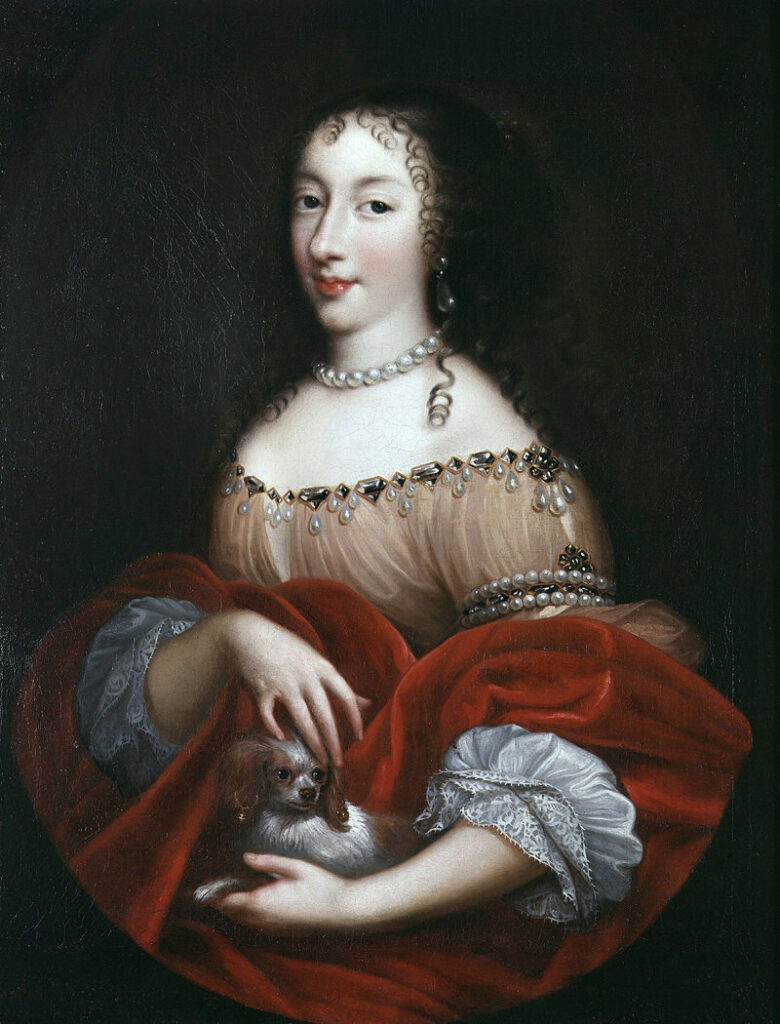 As well as being sociable, Minette was intelligent and cultured. She corresponded with many people, including Moliere, Racine, La Fontaine and Bussy-Rabutin. She also collected art, amassing an impressive collection, which included works by Van Dyke and Corregio.
Minette was an important part of the negotiations of the secret Treaty of Dover. Against her husband's wishes (he was very controlling and jealous of her affection for her brother,) Minette travelled to England for the signing of the important treaty. On the 8th of June 1670 Minette returned to France with a heavy heart and was forced to face her husband's ire. On the 26th of June, she travelled with her husband to St Cloud. Three days later, she drank iced chicory water and began to feel an intense pain. She screamed "What a pain! What should I do ? I must be poisoned." Despite being very ill, Minette insisted that the water be examined. At 2am, on the 30th of June, Minette sadly died.
A post mortem was carried out by 17 French and 2 English Physicians, with 200 onlookers. It was finally decreed that she had died of gastroenteritis at the age of 26. On the 4th of July, Minette was interred at the Royal Basilica of Saint Denis.
Many people at the time, disagreed with the verdict and believed that Minette had paid the ultimate price for taking the opportunity to see her beloved brother Charles once more.