Picture the scene. It is a lovely spring afternoon and you are walking down 5th Avenue; when a gentleman with a severely waxed mustache accidentally knocks you over. Even though you escaped with only a graze to your knee the gentleman is most apologetic. In the midst of dabbing your knee with his pocket square he insists on offering you a small token by means of compensation. However, it seems luck isn't on your side as the gentleman has only gone and forgotten his wallet! Naturally he is terribly embarrassed, but after riffling through his stiff tweed trouser-pockets he find a gift certificate…a $1,000,000 gift certificate for Christie's.
"You really must accept this"
"Oh no i really couldn't, it is far too generous"
"Don't be silly, I practically own 35% of the East Coast. This is a mere trifle"
"OK. Thanks so much"
And so there you are, just a few blocks from the infamous Christie's, with $1,000,000. You don't want to wait around, you have dreamt about buying priceless antiquities your whole life. There is no time to loose.
But what exactly does one get for a cool 1 mil at the finest auction house in the world…
1. AN EGYPTIAN BRONZE CAT
PTOLEMAIC PERIOD, 304-30 B.C.
Hollow cast, finely proportioned, naturalistically depicted, seated with its forepaws together, its tail curving forward around the proper right side and extending just beyond the forepaws, the head with erect ears, the fur incised on the interior, pierced for attachment of now-missing earrings, the large convex eyes with contoured lids, dipping at the inner canthi, peaked at the outer corners, the irises defined, the eye rims originally overlaid with gold, traces preserved on the left eye, wearing an incised wedjat-eye suspended from decorative three-tiered beaded collar, the counter-poise positioned at the nape of the neck, a tang below the paws and the tail; mummified cat remains preserved in the interior; the wooden base likely original 9¼ in. (23.5 cm.) high, as mounted.
Price: $180,000
So I spent my first £180,000 on a Bronze Egyptian Cat, and I just feel that although it was obviously an incredible bargain, it will look a little lonesome on my mantle piece without another figurine to balance things out. THANKFULLY I also bagged…
2. AN EGYPTIAN WOOD AND BRONZE IBIS
LATE PERIOD TO PTOLEMAIC PERIOD, 664-30 B.C.
Depicted standing with its left leg advanced, the body sculpted in wood, the legs, tail feathers and head each separately cast of bronze and inserted, the neck sinuous, with grooves along the length of the long curved beak, the eyes recessed for now-missing inlays. 5 in. (12.7 cm.) long.
Price: $12,000
Honestly, what a STEAL. Now I think something Roman for the bathroom…
3. AN EGYPTIAN PAINTED WOOD MUMMY PORTRAIT OF A WOMAN
ROMAN PERIOD, CIRCA 150 A.D.
Possibly from Antinoopolis, painted in the encaustic technique, depicting a young woman with a solemn countenance, on a cream ground, her center-parted curly hair pulled taut behind her ears, with thick arching eye brows, her almond-shaped eyes with heavy upper lids and large dark irises, her fleshy undulating lips pressed together, wearing circular gold earrings, her red tunic with a white collar or undergarment and dark clavi on each shoulder, holding a ribbon or a folded cloth in her right hand, the panel conforming to her bust, with shouldered angled cuts at each side. 15 in. (40 cm.) high.
Price: $300,000
I can't lie it was a little pricey but i just have to look at it as an investment. Plus i think it will really compliment my avocado bathroom suite.
So far I've spent almost half of my gift card so i'd better start thinking thrifty. As it's BBQ season coming up I thought i'd really better invest in some dip bowels, and when i saw these next two lots I just had one of those eureka moments…
4. AN URARTIAN BRONZE HELMET
CIRCA 9TH-8TH CENTURY B.C.
Formed of hammered sheet, conical in form, tapering to a point, the front with four raised arches, each terminating in a ram head, and a central rib descending along the front with a lion head terminal, a winged sun disk of Shamash above a mountain incised below, flanked by two heraldic royal figures, each with a hand raised in adoration, dotted rosettes and a foliate motif on both sides, a raised band above the rim around the back, perforated three times on each side, likely for the attachment of cheek-pieces
10½ in. (26.7 cm.) high.
Price: $35,000
And for the salsa…
5. A WESTERN ASIATIC BRONZE HELMET
CIRCA 8TH CENTURY B.C.
Formed of hammered sheet, conical in form, the rounded dome tapering sharply to the high pointed apex. 11 1/8 in. (28.4 cm.) high.
Price: $20,000
The next item was this fabbbulloouuusss ritual object, which i thought would make the perfect crafting board!
6. A BACTRIAN STONE RITUAL OBJECT
CIRCA LATE 3RD-EARLY 2ND MILLENNIUM B.C.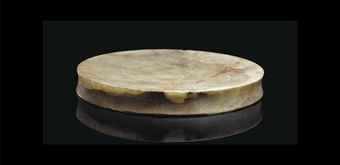 Golden brown in color with red veins, circular in form, each surface concave 28 9/16 in. (75.1 cm.) diameter.
Price: $8,000
Last summer the Jone's next door got bought the marble head of an unknown Roman senator. Ever since that day I hear nothing but "my roman statue this… my roman statue that". Well now finally I can silence them with this 7th nifty buy…
7. A ROMAN MARBLE PORTRAIT HEAD OF THE EMPEROR AUGUSTUS
CIRCA LATE 1ST CENTURY B.C.-EARLY 1ST CENTURY A.D.
Over-lifesized, depicted with finely-modelled features, his oval face with strong cheekbones, the fleshy bow-shaped mouth with the lips pressed together, dimpled at the corners, the philtrum indicated, the naso-labial folds subtly portrayed, his almond-shaped convex eyes unarticulated and slightly recessed, two small diagonal lines extending above the bridge of his nose accentuating his knitted brow, a single shallow crease across the broad forehead, the layered hair composed of a mass of short comma-shaped locks, with the three characteristic locks at the center of his forehead, two parted at the center and one to his right, a single lock curving forward before each ear. 12½ in. (31.8 cm.) high.
Price: $200,000
As I am really into 'vintage' artwork I thought the following item was so bang on trend…
8. A LATE ROMAN MARBLE MOSAIC PANEL
CIRCA 4TH-5TH CENTURY A.D.
The multicolored composition on a cream ground, preserving a dog charging to the left, wearing a pink collar, pushing off his hind legs with the forelegs extended, his ears erect and curving forward, his long thin tail projecting behind, a plant with a pink flower below, additional foliage behind, the hind paws of a second animal preserved to the left. 64 in. (162.6 cm.) x 30¼ in. (76.8 cm.)
Price: $12,000
Before the whole gentleman fiasco which led to the Christie's gift-card I was actually on my way to Mac to purchase some new make up tools. Fancy my luck when I happened across the next lot…
9. THREE BYZANTINE SILVER COSMETIC INSTRUMENTS
CIRCA 6TH CENTURY A.D.
Including a nail cleaner with a flattened forked terminal, an ear scoop with a circular shallow bowl on long thin shaft, and a tooth pick curved at a right angle, each with an intricate openwork shaft below, divided into rectangular sections, with straight and twisted patterning, terminating in a perforation for suspension. Tallest: 3½ in. (8.9 cm.) high (3).
Price: $5,000
Speaking of making myself looking wonderful, the next lot really caught my eye. They are so Sienna Miller circa 2008.
10. A PAIR OF GREEK BRONZE ANKLE GUARDS
APULIA, CLASSICAL PERIOD, CIRCA 5TH-4TH CENTURY B.C.
Each of hammered sheet, lanceolate in form, contoured to the length of the heel and the Achilles tendon, extending up the calf, bulging around the lower end at the ankle, with a pronounced oval protrusion for themalleolus medialis (inner ankle bone), tapering at the front to a rounded edge, with small bosses flanking both sides at the triangular top, perforated at the front on either edge to accommodate laces; one with an ancient repair to the lower edge, with a rectangular sheet pinned to the interior. Left guard: 9¾ in. (24.8 cm.) high (2).
Price: $15,000
I honestly don't know where to put my next purchase, perhaps in the Sunarium…
11. A ROMAN BRONZE HEAD OF ALEXANDER THE GREAT
CIRCA 2ND CENTURY A.D.
Depicted with his head angled upward, his long wavy hair with characteristic anastole above the forehead and falling in thick tousled locks, cascading down the sides of his slender oval face and muscular neck, his furrowed brow overhanging his deeply-set eyes, the drooping skin pooling around the edges, preserving traces of silver inlay for the eyes, with a large nose and full lips, the crown of his head open through to the interior. 3 1/8 in. (8 cm.) high
Price: $45,000
When the next lot came up I thought…hello book-ends!
12. A ROMAN MARBLE JANIFORM HERM BUST
CIRCA 1ST CENTURY B.C.-1ST CENTURY A.D.
Archaistic in style, both depicting Hermes, one older, the other youthful, both with deeply-set heavy-lidded eyes and long hair bound in a fillet, the strands radiating from the crown and terminating in three rows of snail-curls above the forehead, with thick tendrils falling from behind the ears, along the neck and forward over the shoulders, the older with a full spade-shaped beard of wavy locks and a long downturned mustache framing full lips pressed together, 13 in. (33 cm.) high.
Price: $140,000
Finally, if anyone ever says to you, "Can I take bids on a Greek Bronze helmet" , you say "Most definitely"!
13. A GREEK BRONZE ILLYRIAN HELMET
ARCHAIC PERIOD, CIRCA 550-500 B.C.
Hammered from a single sheet, of domed form, with a straight visor, two pairs of raised parallel ridges running front to back across the crown.
Price: $15,000
So that was it. To be honest, I could gone on but the $3,000 i had left doesn't get you very far in Christie's.  I really thought I got some incredible bargains and great pieces for around the home and garden. 
DISCLAIMER
Because this is the internet and someone somewhere will think i am being serious. I am sorry, but i'm not. I really wish some fancy dandy man gave out Christie's gift certificates on a whim. But I reckon that's about as impossible as Christie's actually dabbling in gift cards anyway.  However, with all that said, the above items were chosen from a very real auction happening on the 5th June in New York at the Rockefeller Plaza. So whether you've got bundles of cash to spend or not, why not check them out, and…
…tell us which pieces would you have bought with $1,000,000!