As a child growing up in Lancashire, I vividly recall being enthralled while my dad told me of the local legend of the Lancashire witches (or Pendle witches as they are more locally known). At the time, it seemed to be unreal, a story made up to make sure kids like myself would behave and not call anyone mean names (well that's what my dad told me anyway).
Since coming to Lancaster University, the city were the trial in 1612 was held, I have realised how integral to Lancashire, Lancaster in particular, the story has become. The trial itself is one of the most infamous in English legal history and is one of the most well documented trials of the seventeenth century causing such a controversy that a clerk of the court, Thomas Potts produced a pamphlet "The Wonderfvll Discoverie Of Witches In The Covntie Of Lancaster" reflecting on the case, published in November 1612. For those who haven't heard the story a bazillion times over, let me explain…
Title page of original edition of The Wonderfvll Discoverie of Witches in the Covntie of Lancaster by Thomas Potts (1613)
The year was 1612 and a teenager locally known as Alizon Device got into an argument with a pedlar called John Law. Alizon Device and her family were well known in the Pendle area as 'cunning folk' people who practiced charms and enchantments as a way to ward off evil or help other villagers, for a price. Alizon asked him for some pins and Law refused. Harsh words were exchanged and the two parted ways. Alizon looked back in time to see Law fall to the ground (possibly tripping over) but he managed to heave himself to his feet and stumble to the nearest inn. It was in the inn however when things began to get serious for Alizon, John began to complain of a prickling sensation in his right arm and within three days he was unable to move or speak (probably a stroke).
Source: Authors own
Alizon and her  family were reported to Rodger Nowell, the local magistrate, on the 30th March 1612, where Alizon confessed that she had sold her soul to the devil and told him to lame Law. Why she did this, we are unsure, possible because she genuinely believed in her own powers. She also admitted that her mother, Elizabeth Device had a mark on her body, which Norwell took as a sign Elizabeth had been marked by the devil from where he drank her blood. Alizon was then questioned about Anne Chattox, the matriarch of another family in the Pendle area, involved in witchcraft.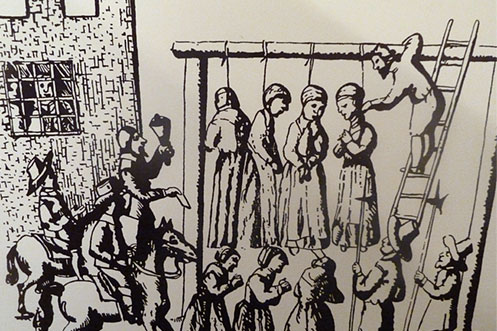 Contemporary woodcut of the hanging of the Pendle Witches at Lancaster Castle
Source: advantageinternet 

This became an opportunity for revenge, the Device family had been quarrelling with the Chattox family since approximately 1601, when a member of the Chattox family broke into the Device family home and stole goods worth up to £1 and of murdering her father via witchcraft. Additionally money could be made from offering charms and spells to frightened villagers in times of need, so this was a clever way of eliminating the competition.
Source: Authors own
On the 2nd April 1612, the two matriarchs of the families were ordered to appear before Nowell and a deadly blame game emerged between the two with both accusing the other of causing harm by witchcraft. Nowell sent Alizon, old Demdike (Alizon's grandmother), Chattox and her daughter, Anne Redferne to Lancaster castle to be tried for causing harm by witchcraft.
It might have ended there, but on the 10th April 1612, Elizabeth Device ordered a gathering at Malkin Tower, the family home, and her son James Device, stole a sheep to feed everyone. Nowell decided to investigate the purpose of this meeting, along with another magistrate, Nicholas Bannister and on the 27th April 1612, an inquiry was held and eight more people were sent to the castle. These were Elizabeth Device, James Device, Alice Nutter, Katherine Hewitt, John Bulcock, Jane Bulcock, Alice Gray and Jennet Preston.
The numbers "1612" painted on the side of Pendle Hill in Lancashire, England to commemorate the 400th anniversary of the Pendle Witch trials.
The trial itself was held just over two days, the 18 and 19th August 1612, old Demdike had already died by this point and nine of the accused were found guilty and hanged on gallows hill just above the city. The key witness to the case was nine year old Jennet Device, whose fanciful tales of familiars, curses and enchantments enthralled the jury and convinced them of the accused guilt. Jennet testified against her mother, brother and sister encouraged by Nowell to condemn them to death.
Source: Authors own
This is only a brief overview of an extremely complex and detailed case, however it is one that has lingered within memory, especially for the people of Lancashire. 2012 marked four hundred years since their execution and it served as a reminder not only to the blatant miscarriage of justice for these innocents, but to the thousands of victims who were murdered during the witch hunts.
Read more on the Pendle Witches here