This year I'm off to Salute to the '40's, a vintage festival at The Historic Dockyard Chatham.
As dressing up in the style of the era is encouraged I decided to do a little research into 1940s fashion to give me some inspiration for the big weekend (pictures will follow!).
So, what exactly did women wear in the 1940's?
In a nutshell, it was all about creating an hourglass silhouette. If you weren't lucky enough to have a naturally curvaceous figure with broad shoulders, a tiny waist and full hips, then the clothes were designed to help you achieve this look.
Dresses
Rationing on fabrics during the Second World War meant that dresses became shorter, bringing them from the mid-calf length of the 30s right up to the knee – how very scandalous!
1940s Dresses [Source: Glamourdaze]
Along with dress length, the war also had an influence on their style, with dresses taking on a masculine, militant look with the invention of the shoulder pads (and there was me thinking shoulder pads were the product of the 80s…). These sexy shoulder pads made for boxy and square necklines, which were often set off by a puffed sleeve with gathers at the top, extending to just above the elbow.
A selection of women's dresses from a 1940s Sears Caltalog [Source: VintageConnection] 
Of course the cuts of day dresses did vary, some sported sweetheart or keyhole necklines, but there was one thing that was consistent throughout all 40s fashion….absolutely no cleavage!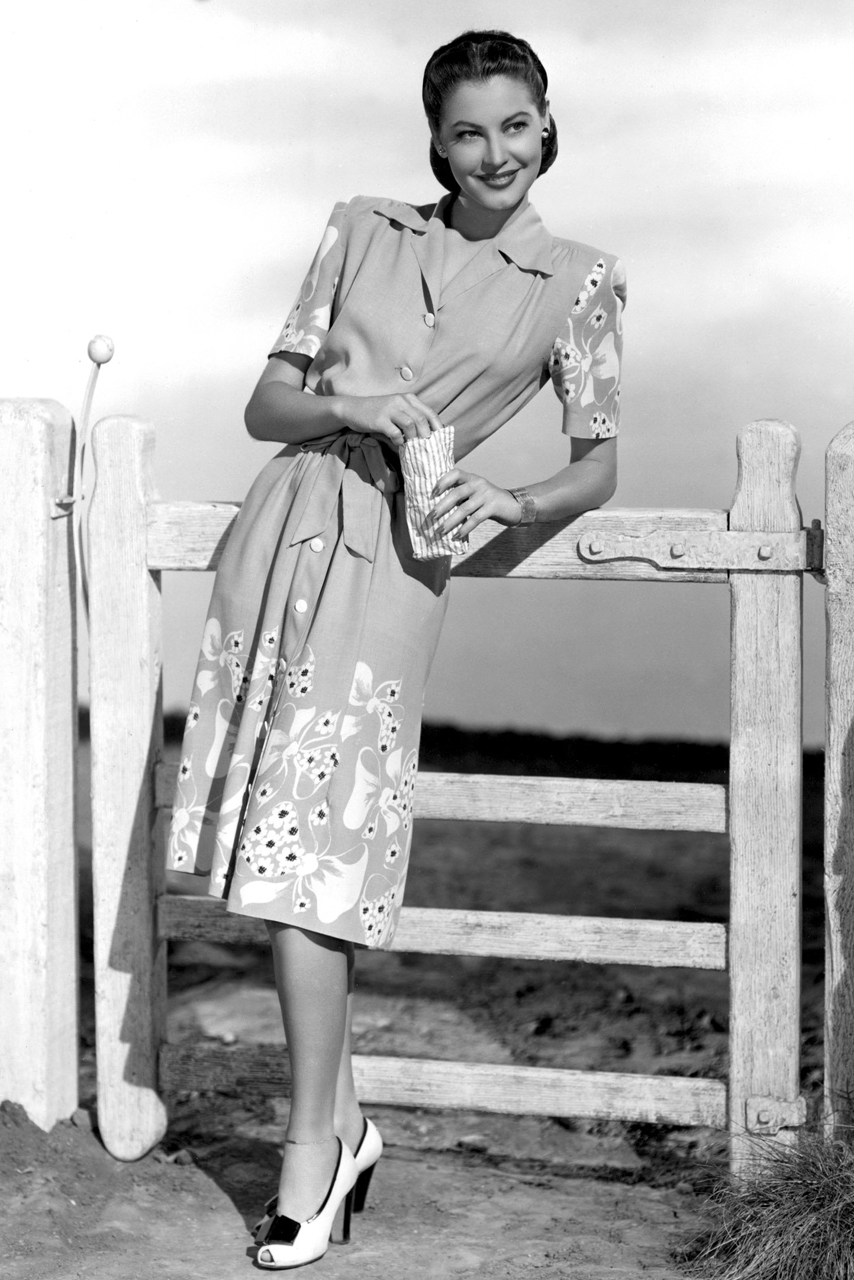 Ava Gardner, 1940s [Source: Marie Claire]
There was however, one exception; the evening dress. At night time women swapped their boxy numbers for slinky spaghetti straps or halter necks, revealing a modest shoulder and cleavage. At the beginning of the decade the skirts remained full but by the end of the decade they had taken on a sleekness of their own.
Post war, in the late 1940s, more fabric choices became available, which meant more choice for women and more of an opportunity to express themselves. Women wanted to move on from the depressing war-time era and they embraced colourful patterns with contrasting trims.
Women's Suits
Fabric shortage during wartime resulted in the rise of the two-piece Victory or Utility suit.
The suits were both practical and comfortable and woman were able to mix and match skirts, blouse and jackets.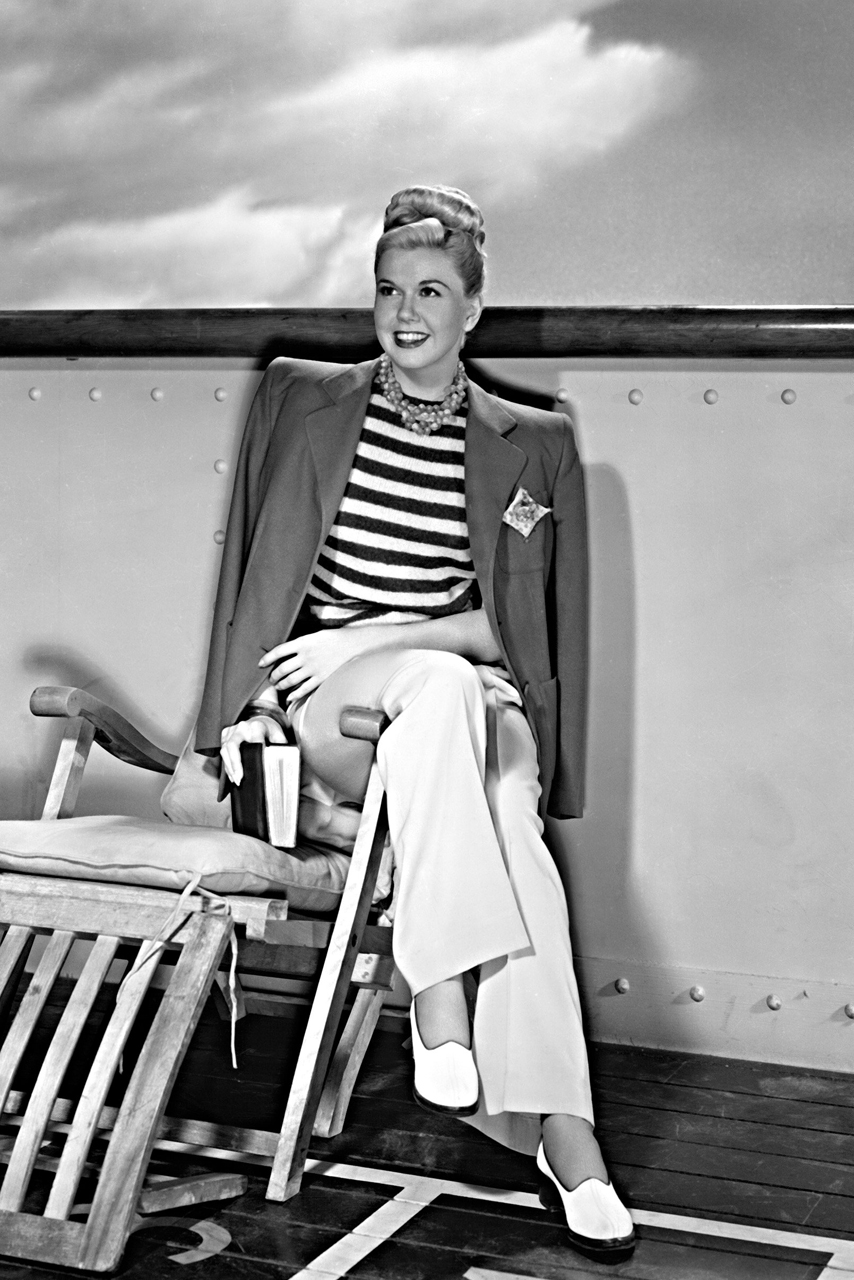 Doris Day, 1948 [Source: Marie Claire]
During this time suit skirts were A line- not pencil. This means they flared out gradually from the hip to the knee and didn't have any pleats or gathers because that wasted fabric. In the late 40's pleats gradually began to reappear and even included some pockets.
The skirts biggest fans were teenage girls, who loved the fullness when dancing to the latest swing music.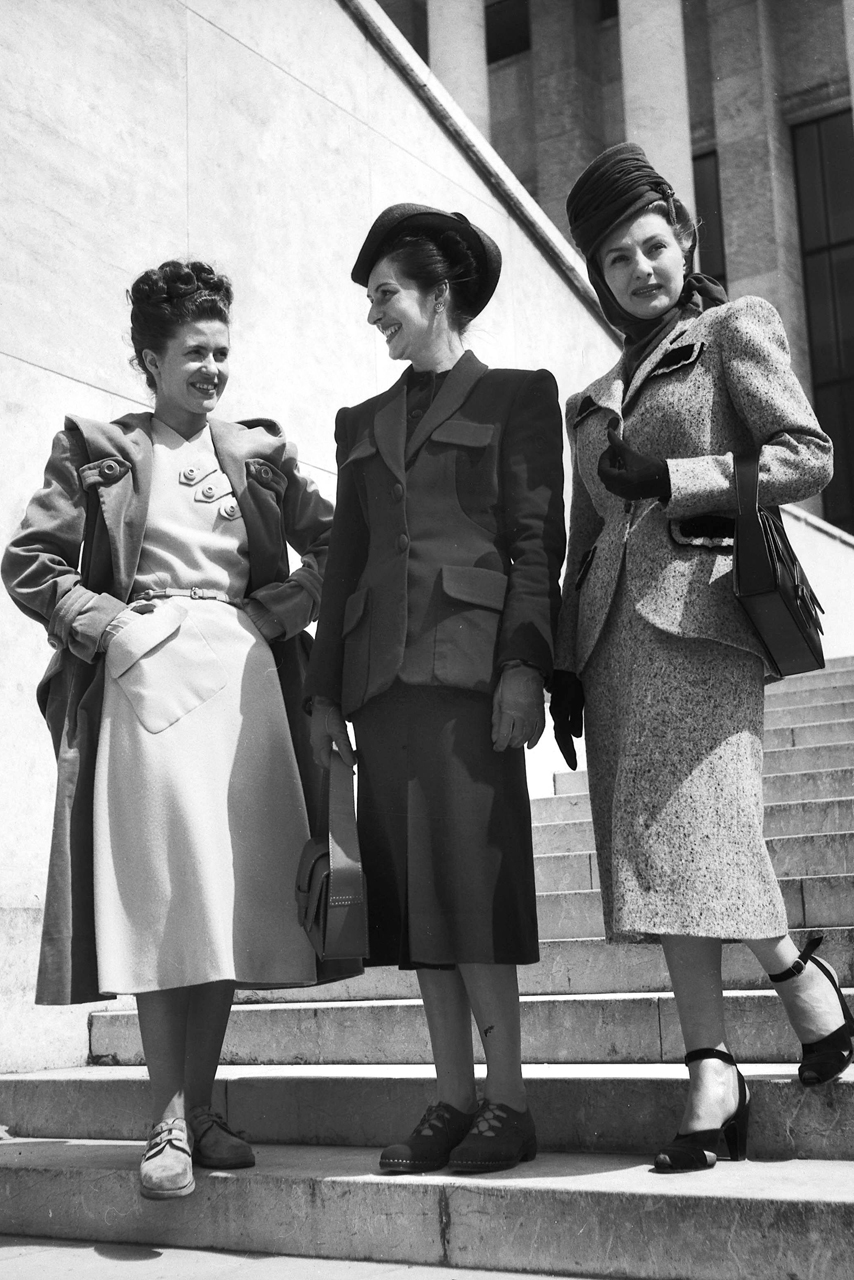 Ladies In Paris, 1947 [Source: Marie Claire]
Pants
A new dawn for women clothing was the trouser (or pant). Strictly a male-only item until the 40's this was a breakthrough for women everywhere.
During the war women took up a lot of jobs they normally hadn't been privy to. Women working in factories need safe clothing that wouldn't snag in the machinery. At first they wore men's trousers, but eventually manufactures created their own high-waited, full-legged and wide cuffed versions for women, which became a hit.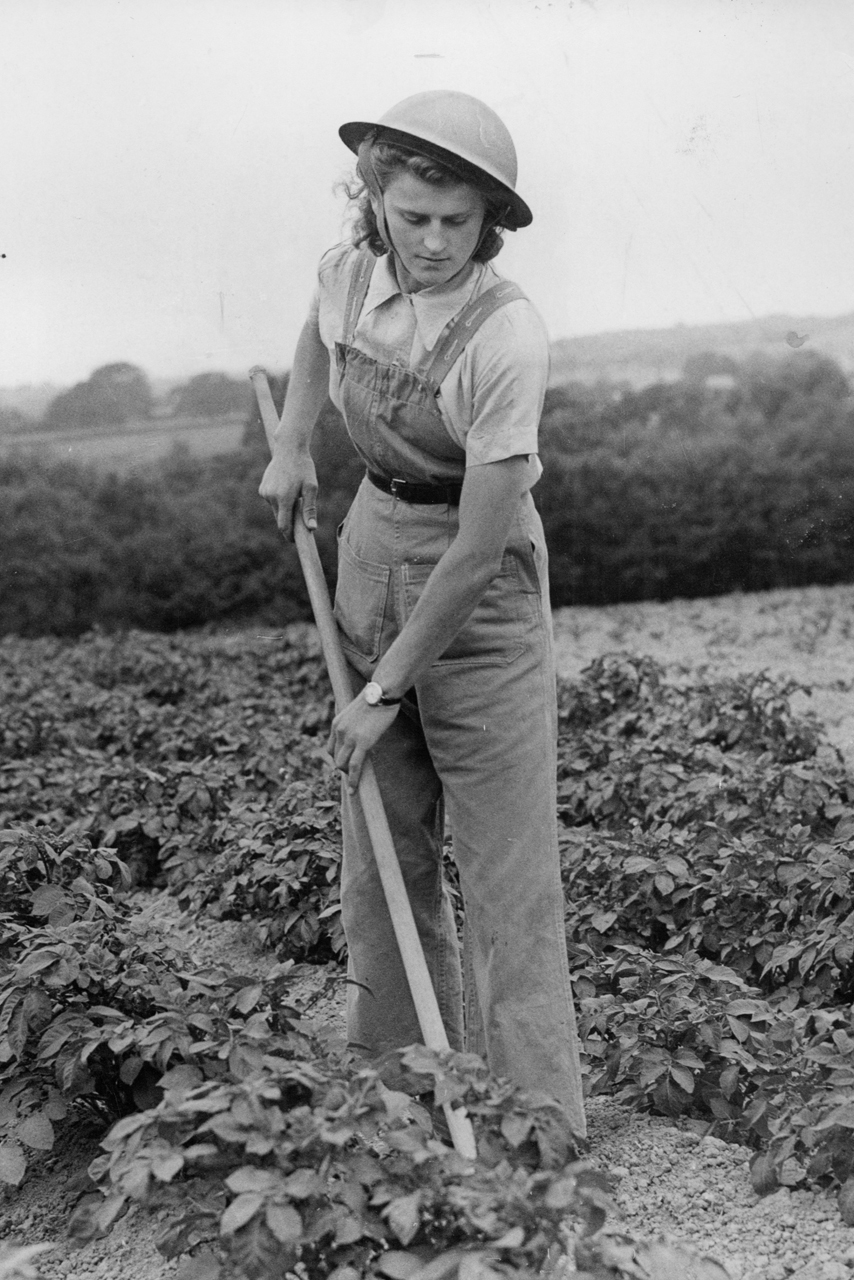 Land Girl In Southern England, 1944 [Source: Marie Claire]
Sears Catalog 1943 [Source: New Vintage Lady]
What began as work-wear became part of the women's casual wardrobe, with overalls and coveralls later turning into sportswear.  
Headwear
Ladies headwear of the 40s was very diverse, with few styles becoming the trademark of the 40s.
One that was popular was the beret – a French-inspired hat that sat directly on top of or angled to the side of the head.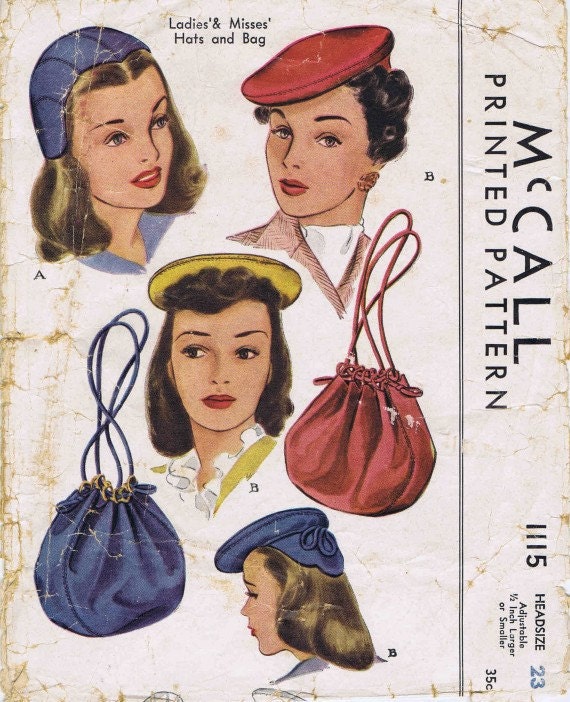 Beret-style hates [Source: Etsy]
The second was a turban, which could be decorated with flowers, feathers or jewels.
A final trend was small hats with decorative veils.
Hat with veil [Source:Vintage Dancer]
Working women opted to have their hair tied back, sometimes wearing hair snoods which would gather their hair back, or even scarves tied around and up.
1940s head snoods [Source:Vintage Dancer]
Bra, Underwear, and Stockings
And so we arrive at the piece of clothing instrumental in holding everything together – the foundation of that covetable hourglass silhouette.
First things first, 40s underwear was extremely uncomfortable, with Girdles as the worst offenders.
Panties were large and in-charge. They were designed to nip and suck in every lump and bump.
Bras were also larger with full back coverage, encouraging a natural rounded shape (the pointy bullet bras wouldn't make an appearance until he 50s!).
So far, so not sexy.
A single compensation was the stocking and garters, which women wore to avoid feeling absolutely 'naked' in their shorter dresses. When nylon was rationed during wartime women instead wore patriotic colourful socks, even with their heels.  
Royal Purple Nylons [Source: Glamourdaze]
So now you have all your 40's fashion inspiration, why not come along to Salute to the '40's too (i'd love to see you there!). 
You can find all the info you need here